TSCM SERVICES
Bug Sweeps • Counter Measures
---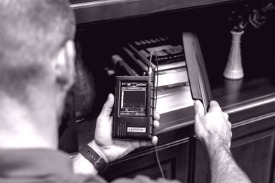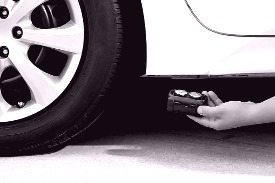 THE PROBLEM: Do you feel you are being watched or stalked?
No one is immune from spying. There are many situations where a person may feel they are being watched, followed or listened to. In a domestic situation, a person may illegally use a GPS tracker or "Airtag" to stalk a significant other after a break-up. A business may be experiencing trade secret breaches because there are covert listening devices in a conference room. A VIP, celebrity or C-Level executive may require a "bug sweep" in their home, office or vehicle as part of a security plan and assessment. Just ask the former CEO of German drug maker Stada, who confirmed in 2017 that his personal vehicle was bugged amidst contested takeover discussions. Additonally, hackers have successfully breached computer networks and cloud devices to steal personal information, including personal photos. What are some surveillance devices that you should be looking for? What can you do to protect yourself from these invasion of privacy issues?
As our technology advances, it's become easier than ever to stalk or spy on someone's personal and professional life. With rapid improvements in technology, the previously prohibitive cost to getting one's hands on surveillance devices is becoming less of a barrier with the introduction of a plethora of low-cost, yet relatively sophisticated, devices that can easily be purchased online. Most of these items are low-cost and cheaply made, but are very effective in the wrong hands. For example, a baby monitor is an excellent complete bugging system for less than $50; it can be placed above ceiling tiles, under conference room tables, behind a desk, or in a briefcase. A high quality "pinhole" lens chip camera can be purchased on the open market for less than $100. As the value of personal safety and protected information increases, the threat potential and available surveillance technology also increases.
THE SOLUTION: How we can help.
Technical Surveillance Countermeasures ("TSCM") refers to one subset of counter surveillance – the detection of electronic surveillance devices. Out TSCM Investigators conduct comprehensive inspections, or "sweeps", of buildings, rooms, vehicles and other places where devices may be hidden. Our TSCM experts use various tools (spectrum analyzer, non-linear junction detector, broadband receivers, thermal imagers, endoscopes, etc.) to detect known, unknown, illegal, disruptive or interfering transmissions. Expertise is critical, and TSCM assignments require TSCM specialists with extensive backgrounds in the detection of the latest electronic surveillance devices. Knowledge about current deployment and exploitation tactics used by individuals is crucial as well. To that end, our investigators have completed formal training through Research Electronics International ("REI"), in Cookville, Tennesse. REI is one of the most well known TSCM training facilities in the country and have trained numerous government and private sector agencies. Our agency can assist with specialized TSCM inspection services of offices, vehicles and residences to locate a wide-range of covert devices such as GPS trackers, "Airtags", Hidden and Covert Cameras, and passive devices. Give us a call today for a free quote on the cost of our services.
FREQUENTLY ASKED QUESTIONS
How can I tell if I am being tracked?

There isn't a simple answer, but if you feel you are being watched, followed or listened to, then we can assist in evaluating your situation. Give us a call and we can discuss signs that are common in different circumstances. One common situation we encounter is in domestic and/or divorce situations.
Can I put a GPS tracker on a car?
Generally no, unless you have a court order or with consent. In California, the law does allow a registered owner of a vehicle to install a GPS tracker, but if involved in a divorce, domestic violence issue, or restraining order, it may be a violation of the law or an invasion of privacy even if you are the registered owner of a vehicle.
How is a Apple "Airtag" used for stalking?
A "Airtag" is a bluetooth device the size of a quarter designed to find personal items through the network of iPhone users. Recently, criminals have used these devices to track people and vehicles to commit robberies, burglaries and stalking. Airtags have been found taped to bumpers, inside seats and under license plates.
Can you sweep my home or office?

We have the capability to conduct a comprehensive search and sweep of any building or vehicle. We check all areas for hidden devices in walls, vents, appliances, desks and furniture.

Can you check my car for a GPS tracker?
We specialize in doing sweeps on vehicles. Call us for a free consultation and quote for services. We will go over the entire of process of conducting a sweep of your vehicle. We can sweep cars, SUV's and motorhomes for hidden devices.

What equipment do you use?

To do a proper TSCM sweep, we use a varierty of very specialized equipment that costs 20K and up to detect and locate hidden devices. Additionally, our technicians have completed extensive training in the proper use of the equipment.